Book Review@ITREALMS ... making leadership SENSE with digital news!
"A good proverb stimulates thought, gives understanding, knowledge and entertains."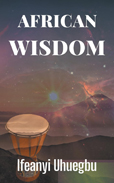 This compilation of African proverbs offers a glimpse into the societies of the African people and the wisdom of their elders. The book's first part is composed of proverbs concerning a wide variety of subjects, such as business, death, patience, cowardice, criticism, and wealth.