Book Review@ITREALMS ... making leadership SENSE with digital news!
"A good proverb stimulates thought, gives understanding, knowledge and entertains."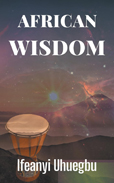 This compilation of African proverbs offers a glimpse into the societies of the African people and the wisdom of their elders. The book's first part is composed of proverbs concerning a wide variety of subjects, such as business, death, patience, cowardice, criticism, and wealth.
The second part consists of "General Proverbs," while the third presents a list of all proverbs presented in the book. Not only does the author present African proverbs in this work, but there are also biblical quotes, highlighting the fact that Uhuegbu writes from a Christian perspective.

Filled with stories from the author's life and anecdotal musings concerning the included proverbs, the book delivers mesmerizing details of African life as well as plenty of commonsense wisdom.
Uhuegbu does an exceptional job of presenting these proverbs in a manner that makes them easily accessible.
The book is set up to present each proverb, followed by an explanation of its meaning.
For example, in the chapter on unity, Uhuegbu writes, "Our elders say, 'when broom sticks are tied together, they sweep well.' This saying supports the fact that there is much to be achieved when united.

The author's explanation of meaning proves helpful, especially when a proverb may be confusing because of cultural differences.
Some proverbs are humorous, such as, "The bat says that, 'he knew he was ugly that is why he chose to fly in the night.'"
Others are educational concerning the way people should treat each other or the importance of unity between people. The author's book is a fun and informative read that opens one's eyes to both African culture and the "wisdom of the elders."
This book, African Wisdom is available at Amazon

*Contributed by Kat Kennedy