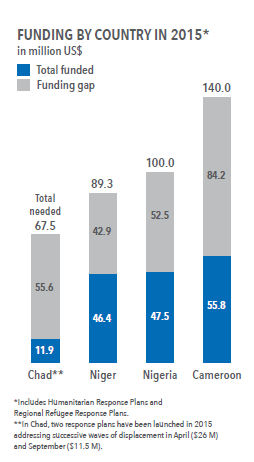 An estimated N7,900,300,000 billion is currently required to save lives and protect those affected by the insurgency attacks by Boko Haram across the four West African countries, reports ITRealms.
The United Nations' Assistant Secretary-General and Regional Humanitarian Coordinator for the Sahel, Mr.

Toby Lanzer

made this disclosure, Friday to
ITRealms
, saying that the humanitarian teams within the Economic for West Africa Community (ECOWAS) region needs $397 million, about N7,900,300,000 to save lives and protect those affected by Boko Haram insurgency in four countries.
Mr. Lanzer listed these countries to include Chad, Niger, Nigeria and Cameroon, all members of ECOWAS.
He also disclosed that the required amount is expected to take care of the Humanitarian Response Plans and Regional Refugee Response Plans.
Citing for instance, that in Chad, two response plans have been launched since this year to address successive waves of displacement in April and September, that is, worth $26million about N5,174,000,000 and $11.5million, about N2,288,500,000 respectively.
Mr. Lanzer revealing this via his Twitter handle

@tobylanzer

, lamented "
Humanitarian teams need $397 million 2 save lives & protect those affected by
#
BokoHaram
in 4 countries

."
ITRealms recalls that the Sahel is the ecoclimatic and biogeographic zone of transition in Africa between the Sahara Desert to the north and the Sudanian Savanna to the south.
Although ITRealms gathered, the Sahel is widely French-speaking, Islamic and takes its name ("shore") from Arabic. But the region, one of the poorest and most environmentally damaged places on earth, has deep troubles.
Sahel, Arabic Sahil, according to

Senegal

eastward to the

Sudan

, thereby forming a transitional zone between the arid

Sahara

desert to the north and the belt of humid savannas to the south; thus Sahel stretches from the

Atlantic Ocean

eastward through northern Senegal, southern

Mauritania

, the great bend of the

Niger River

in

Mali

,

Burkina Faso

formerly known as Upper Volta, southern

Niger

, northeastern

Nigeria

, south-central

Chad

, and into the Sudan.semiarid region of western and north-central Africa extending from
Noteworthy is that in the 1970s, the Sahel captured international attention when drought and famine killed nearly 200,000 people.
+Remmy Nweke (ITRealms)
+United Nations
ITREALMS ... everything news digitally!