ITREALMS ... making leadership SENSE with digital

The prolonged industrial strike of the Academic Staff Union of Universities (ASUU) has suffered an impact on Sunday as a member of the union in Ibrahim Badamasi Babangida University, Lampai (IBBUL), Niger State, Prof. Mohammed Aliyu Paiko, formally tendered a letter withdrawing his membership with immediate effect.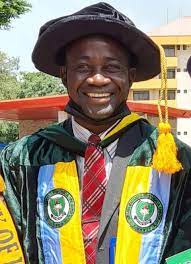 The letter, dated 28-08-2022, drew its inference from the 196-day strike action on the directive of national body, leading to the union denigrating states-owned universities as quacks and irrelevant for not participating in the strike.
Prof. Paiko said by the statement, attributed to the President of the ASUU, Prof. Emmanuel Osodeke, "it has become clear to me that indeed, there is a clear perception of bias, total disrespect for and class differences of members in state universities."

Mohammed Aliyu Paiko, a professor of Biochemistry and Biotechnology, said in the letter addressed to the chapter's Chairman with subject, "Withdrawal from Membership of ASUU IBBUL chapter," which stated inter alia:

"Dear Chairman, Please refer to the subject matter above, as it affects my membership of your branch of the national union.

"After due consideration of recent events concerning the 6 Months' struggle of the national ASUU, leading to the recent irresponsible and inexcusable tagging by the ASUU President of members in State Universities as "Quacks and Irrelevant", it has become clear to me that indeed, there is a clear perception of bias, total disrespect for and class differences of members in state Universities.

"To say that the ASUU President overreached himself by buckling under pressure to engage in professional misconduct by resorting to the use of vulgar language on other members, is putting it mildly. Prof Osedeke's outburst is not only a negative point, it is the height of irresponsible leadership, as has been asserted by many others, publicly and privately.

"Despite all the negative press that his uncouth outburst has generated, Prof. Osedeke chooses to shift the blame to the Journalists who interviewed him, instead of taking responsibility and offering apologies, to regain the confidence of those members who felt slighted by his provocative insults.

"This demonstrates to me the failure of leadership and the peak of insensitivity by someone elected to pilot the affairs of our Great Union. I have thus lost confidence in his leadership.

"Sadly and more pertinently, the IBBUL branch Chairman's responses to the call for Osedeke to apologise has been greeted by equally irresponsible opinion, suggesting that he shares in Osedeke's gaffes and does not see anything wrong with them. This is a clear breach of the popular ASUU mantra "an injury to one, is an injury to all. "

"Therefore, having considered these events carefully, it has become obvious to me that ASUU as presently constructed, under the leadership of Prof Osedeke at the National and Mr Kudu Dangana at IBBUL no longer represent for me platform where my grievances may be pursued genuinely.

"This as I have come to realise that there are first class and Second class citizens in the union. This realisation is unacceptable to me in every contemplation.

"After considering my individual position in the union, I wish to voluntarily withdraw my membership with effect from today, Sunday the 28th August 2022. By this letter therefore, I wish to place it on record that I cease to be a member of ASUU, from branch to national.

"The branch Chairman is thus intimated to kindly advise Bursary to desist from deduction of membership dues from my salary with effect from September 2022.

"I thank you all colleagues that have been resolute in the struggle with me in the past. We have reached our junction, as I will take my own separate path from here going forward, to take my own chances not as a "Quack and Irrelevant" that all of you have accepted to be tagged.

"I wish you all the best in your future endeavours."