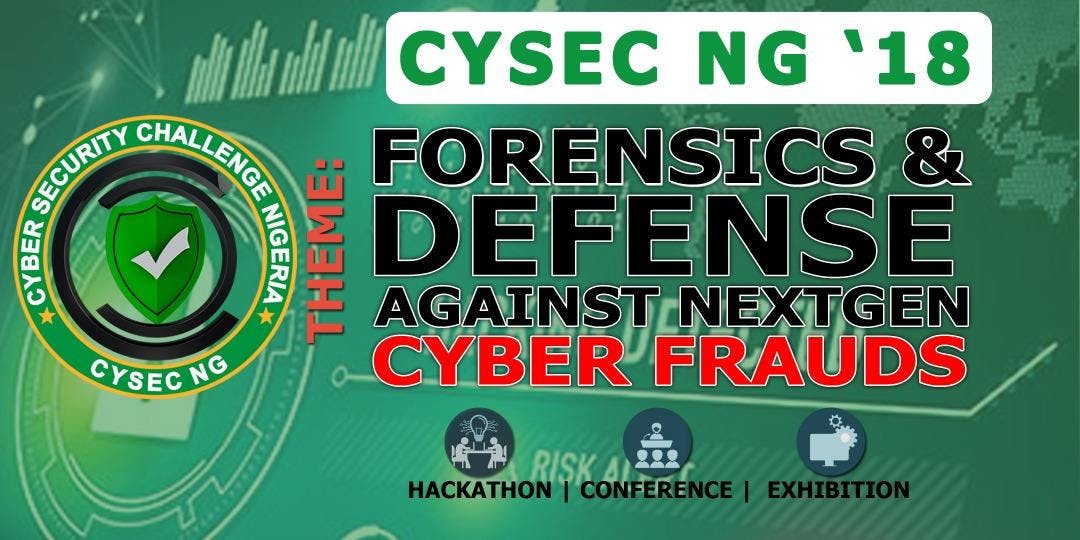 The Cyber Security Challenge Nigeria (CYSEC NG), a Non-Governmental Organisation (NGO) in its bid to consolidate on efforts to forestall the high rate of incidences of cyber-attacks affecting the globe and Nigeria inclusive, is organizing its Annual National Hacking and Cyber security conference in Abuja, reports ITREALMS.

Director-General CYSEC NG, Mr Victor Idonor, told ITREALMS, the conference has been slated for Tuesday, October 30 through Wednesday 31, would centre on the theme `Forensics and Defense Against Next-Gen Frauds' and will also serve as a platform for a `National Hacking Challenge' to identify Nigeria's next generation of cyber professionals.

He noted that with last year's outbreak of NotPetya, Ransomware—malicious programmes that encrypt your files and demand a ransom payment in bitcoin to restore them, it became one of the most talked about forms of malware of 2017. Yet at the same time, the actual rates of malware infection began to crash down around the middle of the year, until by December 2017 it represented only about 10 percent of infections.

"One of the most common methods of email malware infection is through phishing attacks, which are becoming increasingly targeted," he said.

According to him, out of the 1,300 IT security decision makers surveyed for CyberArk Global Advanced Threat Landscape Report 2018, 56 per cent said that targeted phishing attacks were the top security threat they faced while 77 per cent of organisations in the world were victimised by one (or more) successful cyber-attack in 2017. 17 per cent of breaches were social attacks, 76 per cent of the breaches were financially motivated while 12 per cent involved privilege misuse.

CYSEC NG has over the years been playing a vital role in assisting Nigerians scale –up skills in cyber security as well as provides direction towards building a viable Information Technology, cybersecurity professional base for Nigeria and Africa.

CYSEC NG '18 will gather IT professionals in the industry, government agencies, public and private sector who will be thinking, working and paying greater attention to national and global cyber security trends and challenges. It will also disclose the state of security from a unique perspective, `The Hacker's Viewpoint', which say `In order to beat a hacker, you have to think like one and if you don't understand the enemy, how can you protect against him".

The hacking competition will consist of challenges that include password cracking and code breaking, web security, reverse engineering, cryptography, penetration testing, binary exploitation, forensics and many more; practical hacking demonstration, Information Security Research work presentations, stakeholders panel session and software exhibitions. . There would be a hacking challenge where participants will compete, a winner will emerge and awarded.

CYSEC NG '18, he said, is gender sensitive, and holds a special session for women to get involved in Cyber Security issues. It will also capture secondary schools in its `Catch Them Young' insightful time into `InfoSec towards Cyber security inclusion in Nigeria'.

The occasion affords participants the opportunity to connect, network and have high-level talks on cyber security in Nigeria and is slated to hold at the Cyprian Ekwensi Arts and Culture, Abuja.

The event is being organized by Upgraded Era Solutions in collaboration and partnership with government and non-government agencies. The event will attract a variety of top level participants from across various sectors; including Students, financial services institutions, energy, telecommunications, manufacturing, IT professionals, developers, decisions and policy makers, governmental officials, experts, consultants, industry leaders, law enforcement officials, academics, networks security and other stakeholders with an interest in the cyber security space.

Nenye Dom/GEE

ITREALMS ... everything news digitally!