Tribute@ITREALMS ... making leadership SENSE with digital news!
According to a statement by the Supreme Court of Nigeria, The Honourable Justice Sylvester Nwali Ngwuta died at about 2.30am, on Sunday, March 7, 2021. He died at the Intensive Care Unit of the National Hospital, Abuja, after a week of ill-health.

I disagree with the statement.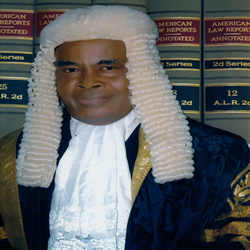 Ngwuta, a proud son of the South-east, one of the few that got to the peak of the Judiciary from the zone, died since 2015. Ngwuta had, gradually, died four times before his final death this March 7.

For the number of times he died, the Nigerian State was the enabler. Justice Ngwuta was a victim of a country which treats its bests like rags; a country which runs down its own; a country which rejects its own, but turns around to claim the rejected once embraced by other countries which appreciate brilliance, competence, and hard work.

Among other, rejected stones, check-out Dr Ngozi Okonjo-Iweala, now of the World Trade Organisation, WTO. Check out Dr Akinwumi Adesina of the African Development Bank, AfDB.

Both were Ministers in their home country, Nigeria. Both were ran down no-end. Both were called names. Okonjo-Iweala was called an IMF-World Bank lackey who has destroyed Nigeria's economy. Former National Chairman of the ruling APC, Adams Oshiomhole called her incompetent. Adesina was said to know next to nothing in Agriculture.
When he introduced cell-phones to rural farmers, he was ridiculed to the moon and back. But look at where they are.
Appreciated by the civilised world. But I pause to say this: They are where they are, doing Nigeria proud, partly thanks to President Muhammadu Buhari who turned a deaf ear to bad people, and supported them to the hilt. But I digressed. I was talking about the killing of Ngwuta by the Nigerian State.

Ngwuta first died that day of October, 7, 2015, when the personnel of the Directorate of State Services, DSS, under its former Director General, Lawal Daura, dragged his reputation in the mud.
During an inexplicable raid at an uncivilized hour, Ngwuta was woken up by them, in his pyajamas, and made to sit for hours as they ransacked his official residence. Thereafter, they took him away, and kept him with them until daylight. He was accused of money laundering.
He died a second time the day he was hauled before a Federal High Court on the money laundering charges. That was quickly followed by his suspension from office by the National Judicial Council, NJC.
Then, he died the third time the day he was dragged before the Code of Conduct Tribunal, CCT, charged with non declaration of some of his assets.
As Ngwuta stood in the dock, he looked at once, lost, far away.
His fourth death came when, even after he was cleared by both the Federal High Court and the CCT in 2018, he was left idle at the Supreme Court. No files, no cases, were passed to him for months. He would go to work, and just sit in the office, doing nothing except, perhaps, to read some books, and Newspapers.
Hon. Justice Sylvester Ngwuta
He resumed sitting only on September 23, 2019.
There are many ways to kill one. Killing the spirit is one of the ways. Ngwuta's spirit had long been dead, killed by the Nigerian State.
The questions are; Why arrest the Justices in such an embarrassing, humiliating manner? Why at an uncivilized time when they were in their pyajamas, sleeping? Why were they not just invited to the DSS office? A saying where I come from says, "The disgrace given to a man is worse than killing him."
On the night Justice Ngwuta was arrested, he was stripped of all dignity. He was humiliated. He was in shock. He was traumatised. He never recovered from the indignity and the humiliation he suffered. He was like working corpse. It was unbelievable to him that a country he gave so much to would treat him like a common criminal.
Until his final death, Ngwuta was bottled up. He was an angry man. He was angry at a country that humiliated him before the world. He was angry at a country that stripped him of his dignity. He was angry at his people who never stood by him. All through his ordeal, nobody publicly spoke up for him. All through the time he sat idle in his office, with no case allocated to him, nobody spoke up for him. He bore his pain in silence. Nobody intervened. Not his Governor, Dave Umahi. Not the South-east Governors' Forum. Not Ohaneze Nd'Igbo. Nobody.
Indeed, the story was that a couple of high profile people from his State, Ebonyi, were working against his full resumption at the Supreme Court. They wanted him retired prematurely, and another, put in his place.
What did Ngwuta do to them?
On the announcement of his death, there was celebration, so to say, by a few people in the South-east, a few who believe Ngwuta was part of a judgement which was unfavourable to them. While I totally understand their anger over the loss, I am outraged at their inhuman reaction to Ngwuta's death. It is unchristian to mock the dead, and/or rejoice at anybody's death. For the records, no one Justice influences the judgement of the Court of Appeal, or the Supreme Court. Neither of the Courts is a State High Court, nor a Federal High Court where one person is in charge. That was how some layabouts invaded Justice Mary Peter-Odili's home over the Supreme Court judgement on the Bayelsa State Governorship election.
I was unaware of Justice Ngwuta's idleness at the Supreme Court until a senior friend of mine drew my attention to it. I felt bad, and did a column on him, asking questions. Fortunately, a couple of weeks later, he was fully reinstated.
Ngwuta did not quite know me. And so, had no way of knowing my phone number. He wanted to call just to say thanks for your write-up. It was many months later that a friend of mine, from his place, Prince Nwabueze, called me one day, and said Ngwuta would love to speak with me. He gave me the Justice's phone number. I never called him. I had no reason to initiate the call. He was the one who wanted to speak to me. But a couple of weeks later, he called me, told me how he got my number, referred to my column, and thanked me profusely.
I was a bit taken aback, and humbled by his profuse thanks. At that level, many of them take such things for granted. He said he owed me lunch at my convenience. I never took that offer up. But he began to address me as his sister who fought his battle, any time he called.
And, now, his final death.
Justice Ngwuta's death saddens me. I believe he was treated in a very condescending manner. I was looking forward to hearing his story from him after his retirement, a retirement he told me he was looking forward to.
In his memory and honour, I hereunder rerun my column on him which he so loved, to the extent that he once told me he re-read it each time he was depressed.
The Orphan Called Hon. Justice Ngwuta (First published on September 3, 2019)
I wonder if you know him. Or even remember him, or his name. If you have forgotten him, don't blame yourself. It is life.
It comes with all sorts of ironies. And throws all sorts at one. The good. The bad. The ugly. The most embarrassing.
The subject of this write-up has seen all the above. He is Honourable Justice Sylvester Ngwuta, a Justice of the Supreme Court. An enviable position, when one gets to that level, one is made for life.
The respect one commands stretches from mother-earth to high heavens. And even though, at that level, they live a kind of secluded life, but it is worth it. They rarely attend social events.
I don't know Ngwuta. But, I have ran into him a couple of times. I am not sure we exchanged more than the casual, usual, courtesies.
The first time I met him was at the National Assembly, Abuja. I had accompanied a friend of mine whose close family member was appearing before a Senate Committee to be screened for a high profile office. And, there, was Hon. Justice Sylvester Ngwuta who had also come for screening in order to be elevated to the position of a Supreme court.
I was excited.
I hadn't met him before, but I was happy that an Igbo brother of mine would soon be a Supreme Court Judge.
From my side of the country, they are not many. It, therefore, gives some joy to see one. So in the spirit of the Igbo, I quickly claimed him as 'my brother' and, bent almost double to greet him.
I forget what now happened, but it turned out he was not screened that day. I guess there was a document that had not been received by the screening committee.
A man of average height, let me not say short, he sat there, dignified, a smile plastered on his cherubic face. He was eventually screened a couple of days later. And was sworn in as a Justice of the Supreme Court.
The day he was sworn-in was my second time of meeting him. I just whispered 'Congratulations, my lord' He remembered my face, clutched my hand and smiled broadly.
I cannot confirm his lifestyle, but I hear he is a recluse, almost. Like most of his colleagues, he has a zero social life. But his, I understand, borders on the extreme.
On the day he was sworn-in as a Justice of the Supreme Court, he held no reception to celebrate it. He, instead, went to the reception held in honour of a colleague of his. I now don't know whether he went with his guests, but that's the Ngwuta his colleagues know. And that was where I met him for the third time.
With his high profile, dignified, respectable job, Ngwuta should be happy. Not a few would struggle to be his friend. His state and zone would look out for him. They would celebrate and protect him with their skin. And so would his professional colleagues, and the associations he belongs to.
But this man has no such luck. He seems rejected. Forgotten. Nobody seems to care about him, his state of mind , or what he is going through. He is lonely. And has become an orphan.
He walks a lonely path.
Even in his office at the Supreme Court, he is lonely. He stays on his own. Probably reads some books and newspapers and magazines. No case file, or anything that members of the public know about, is passed to him. No case is assigned to him. He is not on any Supreme Court panel.
Every morning, Monday through Friday, he wakes up, takes his bath, is chauffeur-driven to his office, and that's it. He just sits down, and leaves at the end of the day. Month end, he gets an alert for his salary.
Some people will chorus: lucky fellow. At least, he gets his salary and allowances every month, something which is no longer taken for granted in our clime, they would say. But for a brilliant mind, used to being busy, nothing can be more frustrating.
And Justice Ngwuta is a brilliant mind. Deep. And, good at his job, those who know him say. But, he has been reduced to a pitiable state. He is frustrated.
Ngwuta, from Ebonyi state, is the fourth in the hierarchy at the Supreme Court. Well regarded, His Lordship's journey in the wilderness started in October, 2016.
Ngwuta was one of the two Supreme Court Justices, whose residences, operatives of the Department of the State Security Services, DSS, raided in the uncivilized hours of October 7 and 8.
His other colleague is Justice John Okoro. But that's where their fate is separated.
While Okoro resumed work after the raid, Ngwuta was arraigned at the Federal High Court, Abuja, by the Attorney General of the Federation, AGF. His offence: Alleged corruption. He was also dragged before the Code of Conduct Tribunal, CCT.
His offence: Alleged failure to declare a number of his assets. Ngwuta challenged the charges. And, on March, 23, 2018, Hon. Justice Tosho of the Federal High Court set him free.
Again, on May 15, 2018, the CCT set him free.
Both the Court and the CCT insisted Ngwuta ought to have been hauled before the National Judicial Commission, NJC, first, a body, constitutionally empowered to discipline Judicial officers.
So, hurray for Ngwuta?
Not at all. If anything, his situation worsened. He is neither sitting, nor standing.
The NJC has said not a word on him, or the case. He has not been invited by the body. Nobody has said anything to him. He is not retired. He is not suspended. And, one cannot say he is serving. He is just there.
Nobody is saying anything to him. No case files are passed to him. Nothing. Worse: Nobody is asking questions. And nobody is making a case for him.
Please, excuse this, but, Justice Ngwuta is an unlucky man. He comes from the wrong part of the country. His people don't care. They shout persecution, but that's where it ends. They just shout.
How come the Igbo are not asking questions on the fate of one of their most accomplished sons? Where is the Nnia Nwodo-led Ohanaeze Ndigbo?
Ngwuta comes from Ebonyi state where Governor Dave Umahi is the lord, and stands like a colossus. I have neither heard, nor read Umahi ask questions about his high profile subject. I have never heard the South-east Governors' Forum raise questions on Ngwuta's fate. Umahi is the Chairman of the Forum.
They seem not to care. Or they don't think it is important. They are unlike their South-South counterparts.
A clear example:
When Walter Onnoghen, the immediate past Chief Justice of Nigeria, got into trouble, the South-south Governors' Forum, which Chairman Governor Seriake Dickson of Bayelsa state is, rose in anger. They all rushed to Abuja, met at Dickson's, and issued a strongly worded communique, alleging persecution of their son on the part of the Federal Government and, asking it to thread with care.
His state Governor, Prof. (Sir) Ben Ayade, dragged the FG to court on behalf of the Government of Cross River state. He got a split judgement. And even though Onnoghen was still retired, his people gave him a sense of belonging. Perhaps, but for his people, it could have been worse.
Poor Ngwuta. He doesn't have such luck. Or, such support. He has been abandoned to his fate. He is an orphan, abandoned by everybody, including his people.
The questions are: Why has he been left in the lurch? Is there something Nigerians don't know? Is there a hidden agenda behind his situation? Is he deliberately being kept out of the way? Not a few Nigerians are beginning to think so. Only the NJC can stop these speculations by quickly bringing Ngwuta's case to the table. The old saying, justice delayed, is justice denied, still holds true.
*Contributed by Comfort Obi, who is the Editor-in-Chief/CEO of The Source (Magazine). Email: comfortobisource@gmail.com, comfort@thesourceng.com
Pix:
The Honourable Justice Sylvester Nwali Ngwuta