ITREALMS ... making leadership SENSE with digital news!
The recently released
Technology and Innovation Report
by the United Nations Conference on Trade and Development (UNCTAD) has shown that there are some five ways social activism could steer technology agenda, especially in developing economies, reports
ITREALMS
.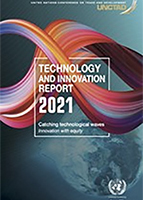 UNCTAD in the report outlined five ways in which vigorous social activism could play a role in changing technology to become more people oriented.

According to UNCTAD, social citizen activism and grassroots innovation could be supported through initiatives that provide funding, link grassroots innovation to existing research and development (R&D) institutions and support international networking for increased visibility and legitimacy.

ITREALMS
gathered that these outlines included:Become champions: Activists can champion socioeconomic and digital equality in local, national and international levels of dialogue. Social activism can also influence any moves to establish ethical frameworks for technologies such as AI and gene editing, reflecting grassroots interests across societies.
Lobby for more legal tools: Activists can break societal and institutional inertia that slows or prevents the dissemination of frontier technologies in societies.
As technological change often outpaces the legal and regulatory environment that was designed for a bygone era, civil society can inform lawmakers of this mismatch and lobby for change.

Ensure accountability: Activists can keep governments and businesses, including the financial sector, accountable for the roles that they play in steering the development, investment and dissemination of frontier technologies. This is needed to ensure the commitment of all stakeholders towards the SDGs and the long-term prosperity of people and protection of the planet.

Drive mass information: Activists can raise public awareness of the multifaceted risks of rapid technological developments, including bias, discrimination, privacy, ethics, and the spread of false or misleading information.

Change behaviour: Activists can create a mass movement led by civil society, to trigger changes in the behaviours and mindsets of tech developers to align innovation design with societal goals.

Further, UNCTAD noted that developing countries, particularly low-income countries, could not afford to miss the new wave of technological change.

"Success in the 21st century will require a participatory approach to building a robust industrial base and promoting frontier technologies that can help deliver the 2030 Agenda and its global vision of people-centred, inclusive and sustainable societies," part of the report espoused.

Remmy Nweke/DoP