The people of Awka North are happy with Governor Willie Obiano. They said he is doing well particularly the members of the All Progressives Grand Alliance (APGA). They said he has done well. They said he has refurbished 250 hospitals in Anambra state yet the only and gigantic general hospital in Awka North at Amanuke remained in ruins. Nothing serious is happening there partially because of lack of infrastructure and no one is concerned.

If you say a word against Obiano's government in form of genuine criticism in Awka North, you become a wailer, because you weren't benefitting. Is that how to run democracy? Any democracy without constructive criticism is dead on arrival.

Others in All Progressives Congress (APC) and Peoples Democratic Party (PDP), the two major political parties are either cowards or afraid of telling truth to power? Their selfish interest are paramount?

First rain of the year was witnessed in Onitsha, Anambra state second week in February, 2020. It lasted for 2 hours and it was a mixed feeling. The rain washed off refuses dumped in drainage channels and defaced the commercial city.
What is the fate of the people of Awka North now that rainy season is back, judging by so many abandoned infrastructure in Awka North. There is no completed tarred road in Awka North. The local government is not connected to other communities via its roads because the roads are inaccessible. Some awarded road contracts have lasted over 6 years without completion like Amansea-Ebenebe-Ugbenu-Awba Offemmili road with a spur to Ugbene and Okpuno-Isu Aniocha-Urum-Amanuke road with a spur to Ugbene.
In rainy season, the roads are impassable and in dry season, the roads are hellish with dusts like balloon hovering past over any vehicular movement. Schools are abandoned by June /July as teachers based in Awka and environs abscond from duties. Children from that area suffer much during rainy season. Government induced poverty is also a challenge. By neglecting infrastructure in Awka North, government is culpable.
Traversing through the communities in Awka North Local Government area during this dry season was hellish, but it will be like dining with the devil himself during the rainy season especially the road that linked Ugbenu and Ugbene with Amanuke community. The road is a death trap. Other roads too. If attended to all the roads in the ten communities in Awka North linked the local government council headquarters at Achalla and to Onitsha either through Awkuzu or Igbariam. Awka North roads connect to Enugu state too. But because the roads were abandoned, Awka North people go through five local government areas to get to Achalla, its local government Headquarters. Is it a shame?
The easiest and closest route to Unizik junction Awka for most people in Ugbene, Ugbenu and Awba Ofemmili is through the Ugbene – Amanuke- Isu Aniocha-Okpuno road or Ugbene-Amanuke-Achalla-Urum-Isu Aniocha road or even Ebenebe-Mgbakwu-Isu Aniocha-Okpuno road, not even through Ebenebe-Amansea, but over six months ago the belly bridge reconstructed by the 14 field Engineer Regiment, Nigerian Army Onitsha connecting Amanuke from Ugbene collapsed, and since then, nothing has been done. Belly Bridge built by the Army and reconstructed by the Army, collapsing?
No attention whatsoever apart from visit by the local government chairman, Hon Ferdinand Onwuje, even though he did not go with the media. Commissioner for Works, Hon Marcel Ifejiofor said some staff of his ministry went on assessment of the collapsed Bridge. Are there no government appointees from Awka North to facilitate Obiano's visit there as well as government urgent attention?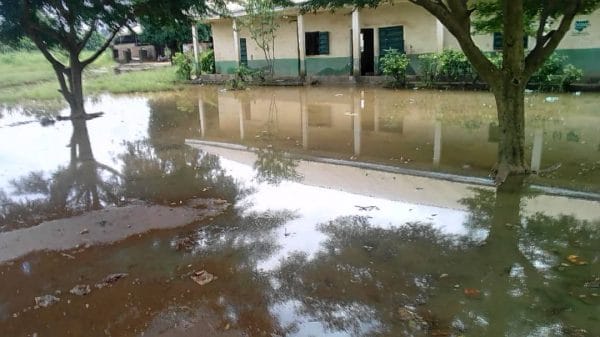 Photo of Flood at Ezigo primary school Amansea
The former presidents General met and re-echoed on the need for Obiano to intervene on Awka North roads as council area appears abandoned by all indications.

Chairman of Awka North former Presidents General, Chief Mike Ekwunife flanked by Pharmacist Paul Enemuo former PG Amanuke as well Chief Shedrack Anakwue and former PG Amansea/ former ASATU PRO, Chief Ifeanyichukwu Cajethan Nwokike , among other former Presidents General lamented on the neglect of Awka North by the Obiano administration.

They noted that there is no other local government abandoned like Awka North in the state hence Governor Willie Obiano should declare a state of emergency on Awka North roads as the people have suffered untold hardship and decadence.
They lamented that communities in Awka North could not access their council headquarters without running around four to five local government areas of Awka South, Njikoka , Dunukofia, Oyi, and Anambra East before connecting to the council area of Achalla.

They pointed out that the communities are interlinked with roads to the local government Headquarters but unattended to like Amanuke through Ugbene and Ebenebe through Mgbakwu.
They informed that a team of investors visited Awka North for investment but were stunned they could not access any part of the local government with ease and that was how we lost the consortium of investors from China. The Governor during his election promised to attend to Awka North as part of Igbo Adagbe but never did.
They insisted that if Awka North had good roads, every other thing would have been sorted out, lamenting that in 2014, Awka North communities threw in everything to elect Chief Willie Obiano as Governor only to be abandoned soon after even when Amansea-Ebenebe-Ugbene-Ugbenu-Awba Ofemmili road was the first he visited after becoming Governor. They said Obiano promised to link the road from Awba Ofemmili to Ayamelum but has not even completed the road since six years he assumed duties.

They asked Obiano to stop the negligence of the people of Awka North and complete the roads awarded since 2004 by former Governor Peter Obi led administration. They asked for state of emergency on Awka North roads by the Obiano's administration as no road in Awka North is passable even with a Jeep, particularly Amansea –Ebeneb-Ugbene-Ugbenu and Awba Ofemmili.

*First published by Emeka Odogwu at Odogwu.com

*JOIN our alert's group | Share stories with us | Advert placement: WhatsApp | SMS: +2348033592762 *Twitter: @ITREALMS *Email: itrealms.dsa@gmail.com*